Contribute translations
Ferramentas utilizadas para traduzir
WebTranslateIt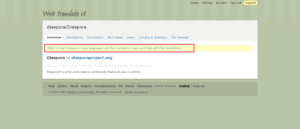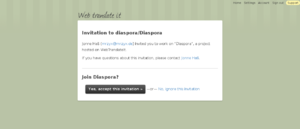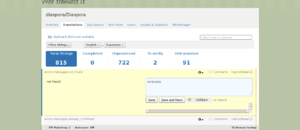 Nós utilizamos WebTranslateIt para gerir a tradução.
Existem dois projetos para o Diaspora na WebTranslateIt.
Se desejar contribuir para a tradução, precisa de se registar em WebTranslateIt.
Primeiro, vá até WebTranslateIt e crie/inicie a sessão na sua conta.
Depois vá até ao site do projeto do Diaspora, JSXC (Chat frontend) e/ou ao site do projeto para a diasporafoundation.org e junte-se à equipa.
escolha o seu idioma ou sugira um novo e solicite um convite.
Irá receber uma mensagem com uma hiperligação para aceitar o seu convite. Assim que receba a mensagem e clique na hiperligação irá ver algo como isto:
Depois de o aceitar pode clicar no separador "Traduções" e começar a traduzir.
Github
Alguns idiomas não são geridos dentro de WebTranslateIt. Irá precisar de utilizar o Github e abrir um pedido de "pull" para contribuir para esses.
diaspora/diaspora
diaspora/diaspora-project-site
Complete me!
diaspora/jsxc
Complete me!
Eu quero adicionar um novo idioma ao diaspora*!
Primeiro, certifique-se de que encontra uma tradução existente.
If you have to create a new one inform a project manager so that they create the new language for you. As soon as the new language was created you can start translating.
Notas Gerais
Idiomas com alta inflexão e gramática diferentes do inglês
We integrated the awesome extensions siefca made for Rails and the i18n gem: i18n-inflector and i18n-inflector-rails. Based on what the user has written into the gender field and our definitions the gender is guessed. Look at the readme of i18n-inflector for more documentation on how to use them. You can use the named patterns easily via WebTranslateIt if you want to do so. However if you want to contribute a definition please make a pull request.
Entrada Hardcoded
There is probably some missing strings which are still untranslatable in diaspora*. If you want to fix those feel free, but only add the new key to en.yml/devise.en.yml/javascript.en.yml. Ou pode simplesmente criar um problema no GitHub.
Traduzir a wiki
Se quiser traduzir uma página na wiki, certifique-se que inclui Template:Languages no topo. Depois clique na hiperligação a vermelho para o seu idioma e comece a traduzir. Se o seu idioma não estiver no modelo, fique à vontade para o adicionar.
Para mais discussões sobre a tradução da wiki, consulte esta discussão Discourse.
Obrigado pela sua colaboração!