User:Goob/Emoji
This page relates to the Discourse discussion on support for emoji.
Current functionality
Diaspora currently does not have native support for emoji or graphical smileys.
The votes so far in the Discourse discussion linked above have been:
Diaspora should properly support unicode characters
Diaspora should not replace unicode characters with equivalent images
One blocker so far for any proposals re supporting a unicode emoji character set has been that none of them have fitted well into Diaspora's UI. Diaspora has a minimal design, and so any emoji supported by Diaspora for inclusion in the UI should follow that minimal design ethos.
Proposal
It would be worth approaching Diaspora's community to ask for designers who would be willing to work on a unicode emoji character set which fits well into Diaspora's UI, and put this into a sprite.
Below is a very rough mock-up of several minimalist approaches. The first is simply the emoticon with no border; the second with a circle around; the third with a slight 3D effect, the fourth with a grey background and the fifth is the inverted version of the first. These are intended simply as a starting point to help generate ideas.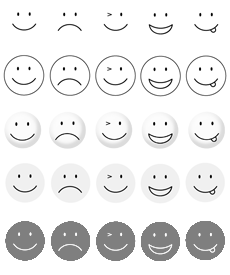 If any designer wants to pick up one of these approaches and start designing an emoji set for Diaspora, please do - or come up with a better approach.